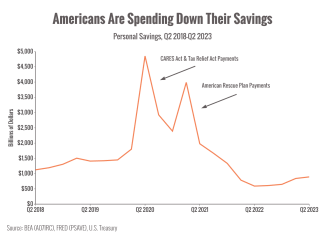 Is a new recession warning flashing?
Let's discuss.
You've probably heard consumers (like us) are the backbone of the U.S. economy.
It's true.
Consumer spending accounts for nearly 70% of economic growth.
It's been the engine of the pandemic recovery and has played a large part in calming recession fears.
As long as Americans still spend on things like cars, houses, birthdays, and trips abroad, they create a significant tailwind against recession risks.
You can probably hear the "but" coming.
Here it is:
The latest data shows that consumer spending may be slowing as Americans become less willing to open their wallets.1
While Americans went big on "revenge spending" on vacations, concerts, and the in-person experiences we missed out on during the pandemic years, the party may be winding down.
There are a few seasonal reasons that could explain the slowdown.
Students just returned to school and summer vacations have mostly wrapped up.
Student loan repayments begin next month for millions of Americans.2
However, analysts think some bigger trends could be at work, potentially foretelling a spending deceleration in the critical final months of the year.
Here's one:
Americans are drawing down their post-pandemic savings at a rapid rate.
While Americans overall still have billions in savings, it's an economic trend we're watching.
At the same time, it's getting harder to access credit.
According to a summer survey, rejection rates for credit applications (including credit cards, auto loans, and mortgages) have increased sharply in the last few months, especially for people with lower credit ratings.3
Since these folks likely have the least savings, it's a potential distress signal for financially fragile consumers.
However, there's a bright spot that could help prop up American spending. 
Income growth is finally outpacing inflation.
That means Americans have more money in their wallets after inflation. That's good news for spending.
How could consumer spending trends affect markets?
Markets seem to be in mostly neutral territory, without any strong moves toward optimism or pessimism. 
If concern about recession headwinds flares, it could cause a pullback. Conversely, if optimism about economic tailwinds bubbles up, we could see further strength in the bull run.
Sources:
1. https://www.cnn.com/2023/09/07/economy/revenge-travel-decline-spending-splurge/index.html
2. https://www.cnn.com/2023/08/31/politics/student-loan-payments-resume/index.html
3. https://www.newyorkfed.org/microeconomics/sce/credit-access
Chart Sources:
Chart 1: https://fred.stlouisfed.org/series/PSAVE#0 and https://home.treasury.gov/policy-issues/coronavirus/assistance-for-american-families-and-workers/economic-impact-payments
Chart 2: https://www.fidelity.com/learning-center/trading-investing/are-we-in-a-recession, https://fred.stlouisfed.org/series/CES0500000003#0 and https://fred.stlouisfed.org/series/CPIAUCSL. Inflation-adjusted income calculated as Hourly Earnings/CPI for all periods.